June
and
Sierra
,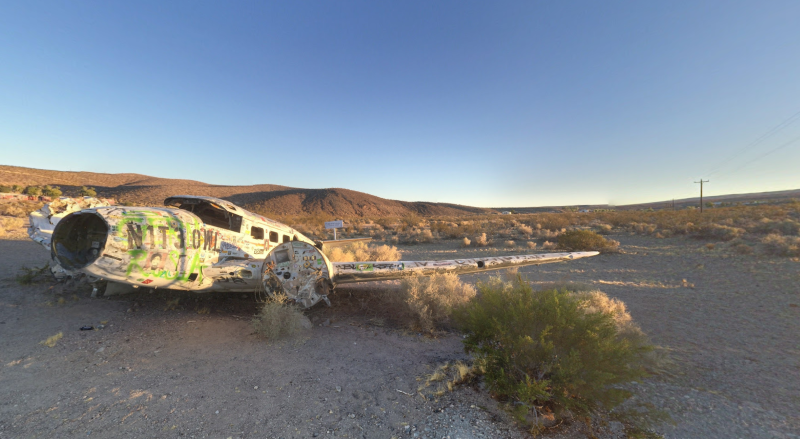 The drive to "Cyberville" took a couple days. Straight north, over the Funeral Mountains through Daylight Pass, past other natural barriers to travel. The United Front had all the best pathways in this sector, it was "theirs". Only Beckett's know-how, June's occasional insights, and Sierra's natural charm got you to Cyberville, really. Along the way, you nearly ran into several UF patrols. All of them heading south to south-east, armed to the teeth and riding fast.
DJ Gnarly kept you company when Beckett's shinies got boring. Reese didn't have the luxury of riding in Hackmobile since there was no room, so he rode backsaddle on Missed's bike. Rothschild rode in back of Hackmobile, Beckett drove.
Who took the front seat with Beckett?
There at the intersection of old highway 95 and 374, just like Tum tum told you it would be, is the little nugget of a township called Cyberville. Before the DVFP, June, it was known as Beatty, population of 1,004 at the last census they took before the walls went up. Now? Now it's a collection of houses huddled together as a vassalage to the United Front. Where the infirm and the weak wear out their days. Where Parcher has a crop of subjects to test out new grotesqueries or just sculpt human flesh to his warped desires. The people here exist. They barely live.
June
, what's one of the worst-looking cyborg people you see as you arrive at Cyberville?
Sierra
, what did the little girl with bumblebee-like multi-faceted eyes say to you when she saw you?
There it sits, Parcher's shop. Nobody from the United Front here to keep him safe. He sits at the eye of a maelstrom that's moved away from him, leaving him naked and unprotected. And you've got several hard and armed folk here to take this place from him.
What do you do?