[ISS] Pres Ourania? (Our 1.4)

Ourania
,
Corporal Rys follows you out of the classroom, then wherever you lead.
Where do you want to have your pow wow?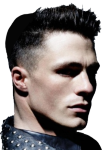 "Ourania,"
Rys says with a suspicious tone,
"Did you want to guarantee sinking your chances? You should have chosen Mark, split the speedball vote. Or taken Mi Sun, at least. You know they'll only vote against us, and then Zola wins."
He exhales a scoffing laugh,
"She's good on a speedball court, but if Malcolm actually expects her to lead the class... that's a waste."