[ISS] Stasis (Mar 2.3, Tab 2.2)

Tabitha
,
Three days.
Three days in iso, in this muck that keeps your body idle, but not your mind. It's maddening. The neural interface offered you a chance to take training on several ship-board un-school activities, from learning the inner workings of the ion drive to the fine tuning of the boilers.
Did you take any of the classes, Tabitha?
This morning (
you know it's morning because the neural interface offers a handy shipboard chronometer view.
, something was itching at the back of your brain. Some weird dreams during the fitful sleep and a painful headache this morning.
You hear a voice. Not the vocal sensations of the ship communication detailing inane data in an annoyingly chipper tone. A voice you recognize, but from months ago.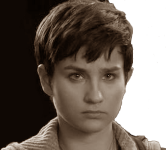 "Tabitha? Can you hear me? Please... please tell me you can hear me. I don't even know if you can talk in iso. Maybe I can hear you anyway? I don't know. I don't know anything. I don't know why I can come in here, even, why I'm still here. Am I?
Am I still here?"
What do you do?